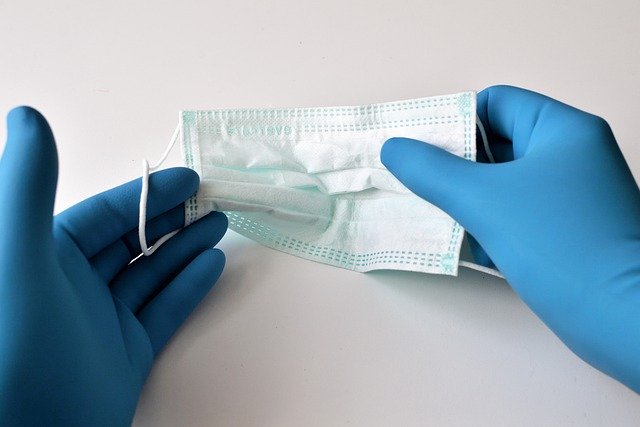 I'm talking about masks similar to surgical masks. For the last few months, it had been difficult in buying disposable masks and quite a number are littering the ground with them. What is wrong with you people? The dustbin is just a metre or less away and you throw onto the ground as if it will grow more masks.
So, I'm about to go crazy trying to find suitable masks of various sizes that fit the face and does not feel like I'm dying from asthma when I breath in the cloth mask. Although the one given by the government was a cotton cloth mask, each time I breathe in, the cloth clung to my nose and I had to pull the mask. Defeats the purpose of making it sanitary.
So, I searched for making my own in hopes that I would not feel that the mask is trying to suffocate me while I'm out and about. Since we have to be home and the majority number of stores have been closed to prevent and discourage people from roaming around, I had to be creative.
Besides, we have been advocated to recycle as much as possible. So, there is always hope and time reduced when others provide a list of materials that work when it comes to making masks at home.
What is the use of the available materials when you don't have a pattern template to make the mask at home? Some don't involve the sewing machine. I've seen people hand sew the masks or using hot glue. Personally, I'm not sure about using the hot glue since it does not stick after washing the cloth mask for a period of time.
So, here is a list of masks that I have been looking at. The patterns don't vary that much. It's up to you to try and see which one you like and you have a better grasp of making the mask.
With so many tutorials, you won't run out of ideas or samples on how to make your own face mask. The one concern is to use the correct way to dispose the filters when you are done using the mask. There are different filters that you can use, from coffee filters (the coffee lovers may want to decry foul), to using dried wet wipes (I would recommend washing and drying the wipes before slotting into the mask) and non-woven bags.
While DIY face masks allow us to go out it does not filter the tiny particles 100%, it just helps to reduce the chances. We must still upkeep the hand washing and disinfecting our homes.